Some of Our Products & Services
Add elegance and value to your home with quality custom tile design and installation from Huss Tile & Stone of Omaha, NE. Serving the Omaha area since 1987 we specialize in residential and commercial tile installation. We pay special attention to details and customize each job to fit your personal needs. We guarantee our work and are proud to bring you innovative solutions to any tile or stone installation project.
Huss Tile & Stone's Products Include:
Porcelain & Ceramic Tile – Durable floor tile, bathroom tile, kitchen tile and more
Glass Tile – Many sizes, colors, finishes, textures and patterns – mosaic tile a specialty
Natural Stone – Granite, marble, travertine, slate, sandstone and more – elegant and timeless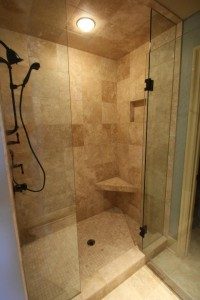 Luxurious, large, walk in showers are all the rage in Omaha today. Sporting seats, lighting & a whole array of shower heads, ranging from massage to rain heads offering a spa like atmosphere to your shower and a relaxing way to unwind after a busy day. Most showers are installing radiant heat in their tile floors. Not only does this add warmth and comfort, but we highly recommend it on a maintenance level. The heat allows the shower to dry out within minutes of use, preventing mold & mildew from occurring, keeping maintenance and cleaning costs down. In many large showers, there is no need for a door. Clients love the open, spacious feel this gives to the shower, as well as the time saved in maintenance and cleaning involved with shower doors.
Showers are not the only area where heated tile & stone floors are popular. Kitchen & Bath floors and any area where you spend a lot of time, is a great place to install radiant in floor heat to transform cold hard tile and stone into cozy comfortable floors. It not only offers comfort but also helps keep costs down. Radiant heat heats surfaces giving a warm feel to the touch. Tile & stone also conduct and store heat well, as a sidewalk or stone walk does on a hot sunny day. Radiant floor heat is not forced heat so it does not distribute dust and germs, just offers warmth and comfort.
Glazed tile should be cleaned routinely with all purpose low VOC household cleaner. The product should be grout joint cleaning compatible and should be rinsed with clean water to remove any cleaning solution residue. Remember to vacuum or sweep floors prior to cleaning to remove any dust or debris. Unglazed tile should be cleaned with tile cleaners that have a neutral ph for safe and regular use. Glass tile should be cleaned with a non abrasive cleaning compound recommended for glass or tile. Routine cleaners should never contain hazardous or polluting products including but not limited to acids or ammonia. Acids can damage the grout & glazed surface of tile and ammonia can discolor the grout.
A proper maintenance program for natural stone is crucial. Natural stone products are porous by nature and require a different maintenance program than traditional ceramic tile. Dirt and dust can scratch the surface of stone, therefore should be vacuumed or dust mopped frequently. They should be cleaned with a concentrated neutral ph cleaner. Stone cleaner should never contain acid or bleach. Acids, even a light solution of vinegar and water will etch & eventually damage natural stone. A premium penetrating/impregnating sealer is the best choice for polished or honed marble, limestone granite or natural color slate. A stone enhancer sealer can be used on tumbled antique stone or slate where a darker or enriched character is desired. Stone floors should be resealed every 3-5 years and stone showers every year. Depending on the type of stone used , showers may require resealing more often. Call Huss tile and storm For a Free Estimate And Huss tile an stone will help you Design the right Heated Floor Shower for your home.
If there's ever a project that needs an expert, it's a shower system. Shower pans, barrier free/zero entry showers, steam showers, sloped drains and linear drains, all bring functionality and beauty to a shower- and learning curves for installers. Moisture vapor, improper slope and out-and-out leaks spells disaster for any kind of wet install, from discoloration to deterioration to rot and mold proliferation. Shower systems also depend on expert waterproofing. Always seek an expert!
Our country's population is aging. Along with that comes difficulties with getting in and out of beds and chairs, walking and most pertinent to our industry, bathing and showering. The country's aging population makes barrier-free/zero entry shower installations desirable and necessary.
From an aesthetic point their clean-looking lines and barrier free/zero entry profiles makes these installations also desirable from a design standpoint. Curbless shower systems remove all physical barriers and open up the space and are a very popular trend in showers. In order to properly execute these installations, high tech materials and procedures should be used. Using high tech materials also allows a customer to incorporate a barrier-free/zero entry into a remodel.
Linear drains introduced in the last few years are growing in popularity as well. A single slope allows for the use of large format tiles, facilitating contemporary designs and barrier-free installations favored in upscale showers.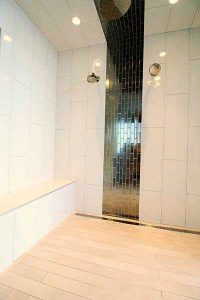 Electric Floor Heat:
Electric floor warming, in-floor heating, radiant heating- whatever you want to call it, it's hot!
Electric systems have expanded the ease of installation over traditional systems for faster installations for contractors and better performance for customers.
The latest innovations in this category are thermostats and controls. Thermostats and controls can be controlled remotely from a smart phone, tablet and computers. These smart controls also maximize energy efficiency, only providing heat when needed. These systems can "learn" the customer's heating habits to activate the floor's so a warm, cozy environment greets customers when they walk through the door after a long day at work.
No matter your lifestyle or budget we have thousands of options available to create an elegant unique look.
Call Huss Tile & Stone today at 402-596-0320 for a free estimate. If you have any other questions or comments, please contact us.
Premier Distributing-8310 S. 137th Circle, Omaha , Ne. 68138, 402-339-1999.
Emser Tile-11941 Centennial Rd. Suite 6 Lavista, Ne. 68128 402-339-8453.
Dal-tile-2003 Portal Rd., Lavista, Ne. 68128 402-597-2800
Kate-lo tile-13211 Chandler Rd. Ste. 4 , Omaha, Ne. 68138 402-614-9010.
RBC of Omaha-10501 I Street, Omaha, Ne. 68127 402-331-0665.
Sunderland Brothers Tile Co.-9700 J Street, Omaha, Ne. 68127 402-339-2220